INDUSTRIAL RELATION UNIT (IR)
Industrial Relation Unit (IR) serves to enhance and coordinate cooperation of KYP with industry and community in an effort to enhance the quality of teaching and learning, research and development as well as services. The role of this unit is to strengthen the current and existing partnership between industry and KYP as well as community in the area of KYP-industry partnership and KYP-community relation platforms.
This unit play the main roles as a catalyst towards engaging with the industry and community in order to address the needs of both industry. The uplift of KYP – industry collaborations should be synergized with the academicians and they must understand the needs of the industry whereby the academic community expertise could be accessed by the industries.
ROLES OF IR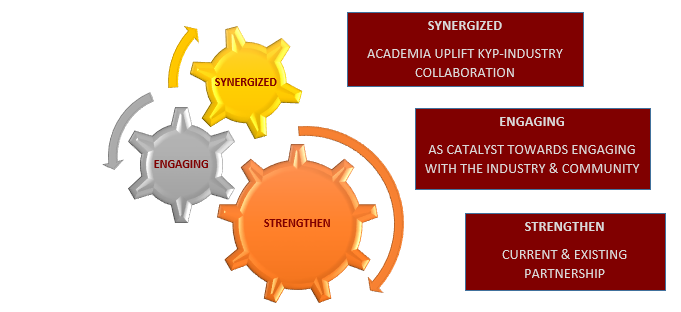 • Industry Centre Values (ICV) - Engagement Programmes -
Industrial visit - MoU/MoA

[email protected] Programmes
Roundtable Discussions
Industry Advisory Board
• Knowledge Transfer Programmes
- Academia – Industry Attachment Program (ACINAP)

• Industry / Community Advisory Panel
• Portal
• Secretariat for:
Jawatankuasa Koperasi, Keusahawanan & Kepenggunaan Negeri Pahang
Jawatankuasa Kesihatan, Sumber Manusia & Tugas Khas Negeri Pahang
POTENTIAL ENGAGEMENT
OUR PARTNER
Industry-Centre Values (ICV) – Industry Engagement Programmes
Industry-Centre Values (ICV) is a mechanism that links education to jobs, where industries cooperation with education providers in order that pervaded students with the skills required in the job. These also to improve the students learning and academic skills for upgrading of human capital with exposure to the environment and industry experience. Therefore, the students applied with skills based on the needs of industrial clusters.
The concepts of ICV driven by the anchor companies in the industry and the lead university. This collaboration is supported by a network of supply chain companies and other institutions.
CLUSTERS
FACULTY ENGINEERING

DIPLOMA CIVIL ENGINEERING | UTM

DIPLOMA MECHANICAL ENGINEERING | UTM

 

 

FACULTY AGROBIOTECHNOLOGY

DIPLOMA PLANTATION INDUSTRY MANAGEMENT

 

FACULTY BUSINESS MANAGEMENT

DIPLOMA ACCOUNTING

DIPLOMA MARKETING

DIPLOMA EXECUTIVE SECRETARIALSHIP

DIPLOMA TECHNOLOGY MANAGEMENT

 

FACULTY OF CREATIVE ART, HERITAGE & TOURISM

DIPLOMA ART & DESIGN | UITM

DIPLOMA GRAPHIC & MULTIMEDIA

DIPPLOMA CREATIVE MEDIA DESIGN

DIPLOMA TOURISM MANAGEMENT

DIPLOMA JOURNALISM

 

FACULTY INDUSTRIAL MANAGEMENT

DIPLOMA COMPUTER SCIENCE | UTM

BACHELOR COMPUTER SCIENCE | UTM

 

CENTRAL GENERAL STUDIES

DIPLOMA EARLY CHILDHOOD EDUCATION
Industry Roundtable Discussion / Meeting
Roundtable Meeting / Industry-Academia Collaborative Forum (RTD) is a platform for meeting and discussion between industry representatives and the relevant agencies with the Management.
The views and recommendations are needed from the industries regarding the opportunities for strategic cooperation, the characteristics of graduates require in the current job market, the establishment of the relevant academic programs, networking session and strengthening strategic cooperation partnership research conducted by KYP researchers.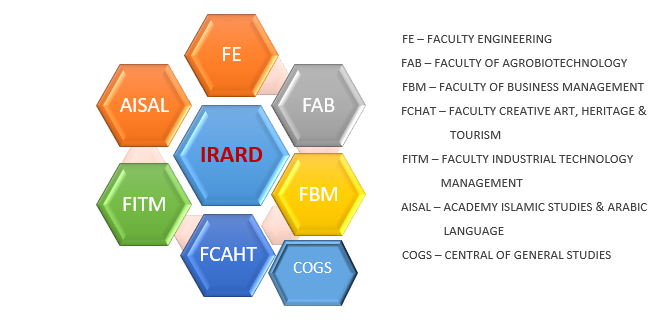 ACTIVITIES

ACADEMIA-INDUSTRY ATTACHMENT PROGRAM (ACINAP)
ACINAP is an initiative of talent development for academician in Kolej Yayasan Pahang. This program is organized and monitored by the Office of Industry Relations and Research Development (IRARD). ACINAP intends to give training opportunity and working experience at the relevant company or industries. Lecturers who participate in this program will receive the exposure of real working environment and will be evaluated by the respective industry officer. The number of appointed lecturers is subjected to the faculty discussion.